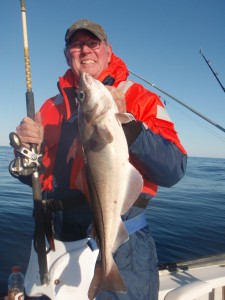 Captain Don Cianciolo has been fishing the waters of New England for over 50 years. He currently holds a United States Coast Guard 100-Ton Master's License. Don is also a veteran of the Marine Insurance Industry, and holds on the water safety in the highest regard.
Like many fisherman, Captain Don grew up in a fishing family.  Don's father, Captian Murray Cianciolo, was one of the pioneer's of Rod and Reel fishing for Giant Bluefin Tuna.  Running his various boats, all named "Don Bo-Jo" and based in Pt. Judith, RI, Murray and his sons chased tuna and swordfish throughout New England.  They competed in and won or placed in many tournaments and even held a World Record for largest Bluefin ever caught in a Tuna Tournament (990lbs).  By age 12, Don was skippering the Don Bo-Jo while his father acted as angler.  Don caught his first Giant Bluefin at age 15 way back in 1960.  Together they caught hundreds of Giants and watched the sport evolve from linen line and split bamboo rods to the high tech tackle of today. 
Don brought his first boat to Sandwich marina in 1979, and named her "Laura-Jay" after his two children.  Several boats later, he now runs the current "Laura-Jay" a 31′ Duffy downeaster built by Atlantic Boatworks of Brooklyn Maine.  Don is a field-tester and pro-staffer for several well known tackle manufacturers, and is very involved in fisheries conservation and management issues.  
Captain Jay Cianciolo is the third generation captain in the Cianciolo family.  Jay started fishing as soon as he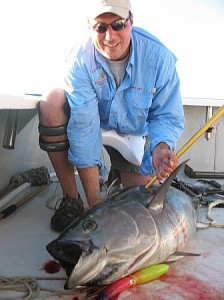 could walk, and was tagging along offshore from the age of 5.  He has been lucky enough to not only grow up in a fishing family, but also spend time fishing with many other great captains as well.  Jay caught his first Giant Bluefin at only age 13 and his favorite place on earth is the cockpit of the Laura-Jay.  Jay handles all the rigging for the boat, and is obsessive about tackle, techniques, and the "next new thing".  It's often "old school" vs "new school" with the best results somewhere in between when the Cianciolo's debate tackle. Whether its Stripers, Tuna, or Cod, Jay loves chasing them and will often drop everything to do so.  Fortunately, he has a very understanding wife, and 3 kids who are already addicted to fishing.
 First Mate Alex Avila – "The Kid"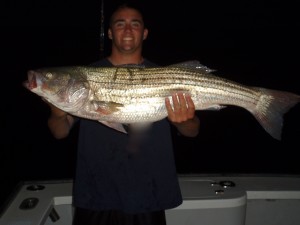 Alex grew up in commercial fishing family, and has been out on boats as long as he's been able to walk.  In addition to working the Laura-Jay,  Alex has his own small boat and hauls lobster traps for market.  On a typical summer day, Alex will run back to back Charters on the L-J and then go hit the neighborhood lake for smallmouth bass – he's truly addicted.  
Captain Skip Deschamps has been mating aboard the Laura-Jay for 15 seasons.  Skip is not only an avid fisherman,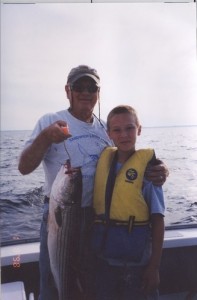 but also an accomplished Bluewater Sailor and Scuba Diver.  While Skip loves fishing Cape Cod Bay for Striper Fishing, when it comes to his diving, he much prefers his winter trips to Mexico and the water clarity of the Caribean. 
Our Goal aboard the Laura-Jay is for our customers to relax, have a great time, and catch lots of fish. We want our customers go home happy, with plenty of stories, and return each year as old friends. Whether you are a novice or experienced angler, we will do everything possible to ensure you have a memorable trip.
CAPTAINS AFFILIATIONS:
Cape Cod Charter Boat Association – President, Board of Directors
Stellwagon Bank Charter Boat Association – Member
Atlantic Tuna Club – Board of Directors
Mass Marine Trades Association – Member
Sandwich Lions Club – Treasurer/Past President