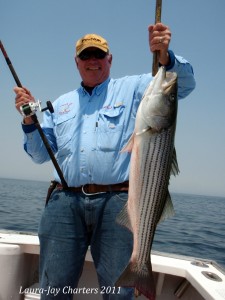 Striper Season in the bay is off to a great start.  The unbelievable 2 week blitz that occured in the canal got an aweful lot of press, and those fish have moved through and set up in their usual haunts in Cape Cod Bay.  All of the spring areas are holding fish – good numbers on Billingsgate and up at P-town, and lots of good fish feeding on the Mackeral Schools between Sandwich and Barnstable.
Friday morning we jigged up about 40 macs in 20 min right in front of the canal.  Made the quick run down to Barnstable for the outgoing tide.  The bite there has been very good, but we got chased out by all the schoolie bass (and a few small keepers).  We made the run out to one of our deeper water spots and found nice action with cookie-cutter 36″ fish.  Fun fishing, with the largest Bass of the day a tad over 40 inches.  Great morning on the water.
June's New Moon is on Wednesday – look for the season's first push of really Big Fish to come through mid-week.  The bait is there, and the timing is perfect for some great days.