Great trip this morning with a family in from Rye, NY.  Three kids on the trip tod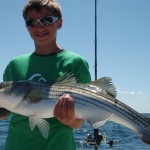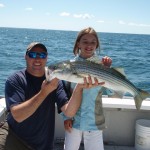 ay, I believe 13, 11, and 3 – whole goal of the trip was to get the kids their fist Stripers and maybe learn a little about fishing while they were at it.  Jack, the oldest, figuered out the process really quick, and in no time he was taking care of the trolling rigs on his own and landing fish like he'd been doing in for years.  Not to be outdone, his sister Jaime had the biggest fish of the morning at about 36″ plus a bunch of otheres.  Even the 3 year old got in on the action as she "helped" her dad reel one in.
Overall, a great day with a great family.  Hope to see them back again next year.