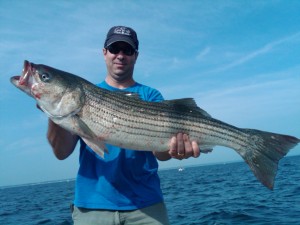 Striped-Bass fishing on Cape Cod Bay continues to be excellent this week.
Saturday, we had the Glassman family out for a 1/2 Tuna, 1/2 Striper trip.  Last year they scored a big Bluefin, unfortunately we couldn't repeat this year.  One tuna tried to eat our kite-bait, but didn't get stay on the hook.   After getting frustrated by the tuna, we moved inshore and had great Striper-fishing.  We took 8 or 9 fish in about an hour with the bigger fish topping out around 38″.
Sunday, we had a group of guys from Connecticut that were vacationing with their families in Sandwich.  Very good fishing at Provincetown despite the crowds.  For the most part we were able to stay out of the crazy crowds and limited out on good size stripers.  All fish were on the tube and worm again.
Monday we fished down off of Barnstable, and had another good day.  The tube wasn't working as well, as the fish were tight, tight to the bottom.  We switched over to jigging, and got quite a few fish.  Fun day, with a nice family that were very happy when we finished up.
Tuesday – good group of guys that won the charter at an auction to benefit the Jay's kid's elementary school.  The guys wanted to target some larger fish to torment their one friend that couldn't make the trip.  There are areas of Cape Cod Bay that will hold less fish, but they are often big – so we hit a couple of those holes.  We only ended up with a few fish, but they were rewarded with decent size – the bigger ones were in the mid-20's and one just over 30 lbs.  All in all a fun day.
Very busy this week which is a good thing.  Right now the Saturday afternoon trip is open, as well as a few slots in the middle of next week.
Good luck out there.