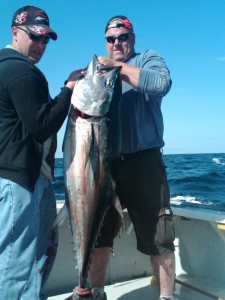 Got a bit behind on the reports lately – here's a quick rundown of the last few days:
Friday – Tuna and Striper combo trip.  Fun trip with a couple of our regulars who I think have been coming out 10 years straight now.  The north wind was cranking in the am, so instead of tuna fishing first we hit P-town for Stripers first until the wind calmed down.  Honestly, we were trying to find some Bluefish to take out and liveline, and we ended up in a ridiculous striper bite.  The bass were stacked up about 10 feet high in 18 feet of water and we had fish on every pass until the guys got tired.  Not sure the final tally, but it was very good.  Since we had Bass on board, we had to stay within the 3 mile limit and made a run down the backside looking for tuna.  We found good numbers down off the golfballs, with lots of mixed size fish airing out.  Unfortunately, we couldn't buy a bite.  Overall, it was a really fun day with customers that made it seem like a day off fishing with friends.
Saturday – Another Combo Striper and Tuna trip.  Much nicer trip out, but we still had the north wind that got the tuna bite going a bit.  We got on a good spot away from the fleet and started marking fish pretty consistently just before slack tide. A couple of good boils on the inside baits, and then the long rigger got hit.  Nice Slot fish, that put up a great fight – taped out at 54″ and made for some great steaks.  Got the whole thing on video – I'm sure I'll get it edited by January…The bite was all over by noon, so we moved back into P-town and timed the bass bite well as the tide was picking up.  I think we ended up with 10 keepers and some shorts – biggest fish was a little over 40″.  I know that was the guys first Bass, so he's a little spoiled now.  Fun day, over an hour's worth of filleting and steaking, but well worth it.
Sunday – finished up the weekend with a very productive 1/2 day bass charter.  Good fishing, again all on the tube an worm.  Seemed like we had to work a little more for the fish today than the last few, but we still limited out.  There were also a pile of bluefish that moved in and kept things interesting (where were these on Friday?).  Another fun trip as these guys were back from last year and we hope to see them next year too.
Very productive end to the week – looks like we have some weather coming in, but that should drop the water temp a bit, and keep the bite strong. 
Good luck out there.